The moment that you listen to Side 2 the first thing that may strike you (outside of the vocals, of course) is the quality of the musicianship.
This post is to intended recognize the folks who made this record what it is: the BAND!  You can read here about the Album's backstory and my thank you to Spencer and others..
One of the first questions I asked Spencer Coats, the studio manager and engineer extra-ordinaire prior to the session, was about the musicians that would play on the record.
The owner of FAME, Rodney Hall, had told me during an initial conversation that the musicians were top notch and would be able to lay down basics in no time.  Of course, since I tend to be a taco short of a combination, I didn't believe him.
Anyhow, Spencer listed out the names of the musicians. And I was so nervous, I was able to write down the names of only one of them. And that was drummer Justin Holder.
So, I showed up to the first session and was pretty blind to the whole deal.  I arrived and everyone was there--everyone except for the bass player--whose name I didn't remember (of course!)--who was driving down from Nashville.
I loaded all of my stuff into the studio and was immediately shown to my "cubby" which was an isolation booth that was off from the main room of Studio A.
After I got set up, we had some time until the "Bass Player" showed up from Nashville. The guys were sitting around talking, and as I started to listen in, I started to hear about all the war stories the guitar player had experienced back in the day meeting Bob Dylan and touring with Jackson Browne. At that point, I knew that I was totally fine and also completely over my head at the exact same time. 
I'll save some of the stories about the making of each track for future posts, but here are a few lines about each player, with the emphasis that I quickly nicknamed them collectively as "The Dream Makers" because they quickly made all of my dreams come true....
Will McFarlane--Guitars
The first thing that folks should know about Will is that he was Bonnie Raitt's guitar player for the better part of 10 years before moving to Muscle Shoals and becoming a later part of the Hall of Fame Muscle Shoals rhythm section.  To say he's an incredible player would be an understatement.
In addition to being a great guitar player, Will was also the session leader.  He helped to cue the band into all the parts and the transitions. He did this, in part, by charting all of the songs using the "number system" that is a part of Southern Music.  You can see what that number system looks like here: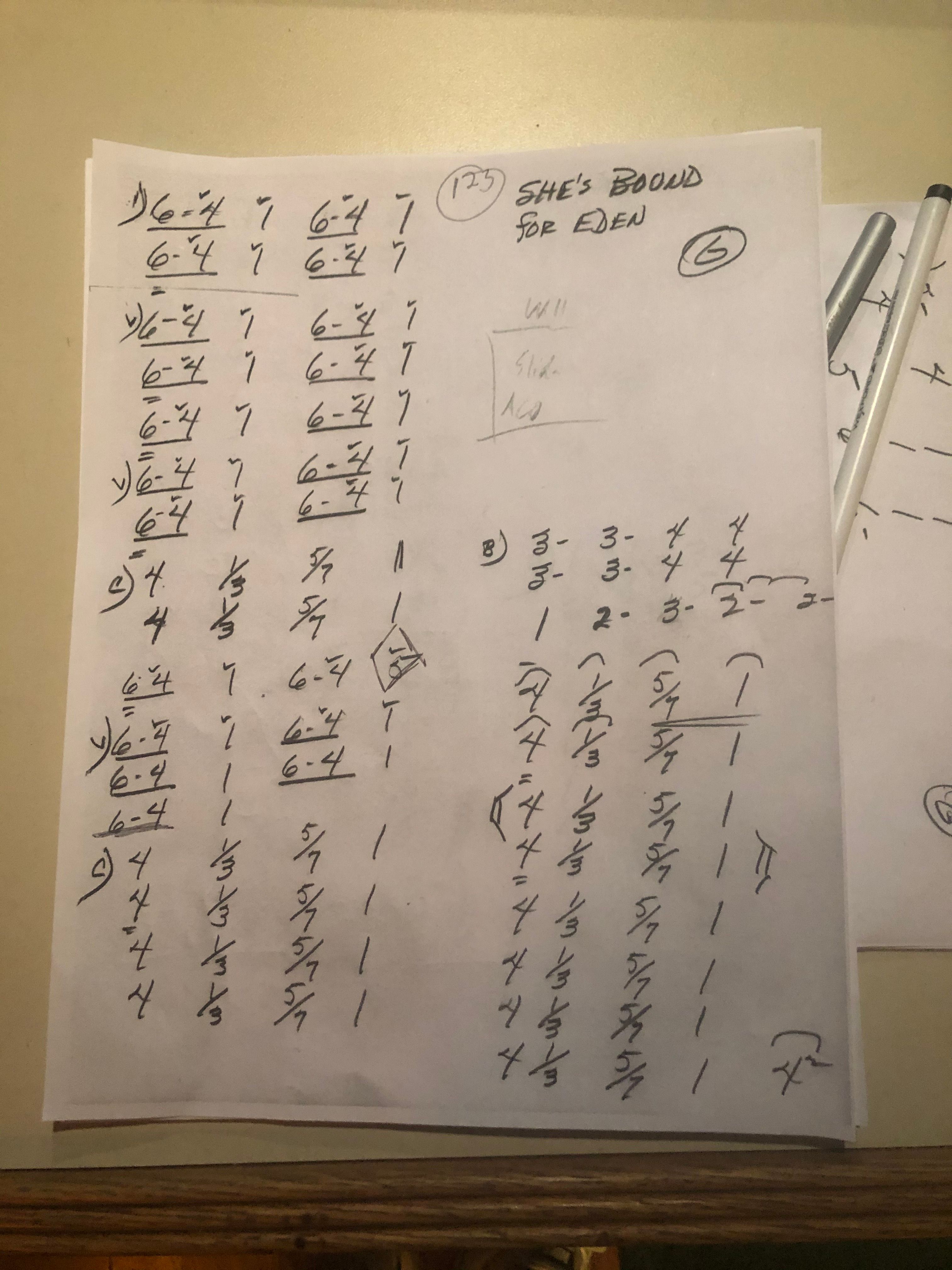 So, Will had the pleasure (cough! cough!) of listening intently to all of my rough demos. And as he did that, he had the opportunity to plot out some of the ideas he had at work for the session. Of course, that was great because Will has AT LEAST 4 guitar parts going on each song.  I said this to him directly, but Will undoubtedly represents the melodic core of the record.  I must have listened to each of these songs 1000 times now, and every time I hear something different from him. His slide lines are EPIC and the slide solo he wrote for "Betting on You" I think is iconic. 
Pay attention to the harmonics he slides into multiple tracks, and the "swells" he brings to the beginning of "A Beautiful World."  Will is INCREDIBLE and I can't wait to return to the studio to see what else he can do with my songs.  What an honor to have been in the same room with him!
Jimbo Hart--Bass
You probably know the great Jimbo Hart as bass player and engineer extraordinaire for Jason Isbell & the 400 Unit. What you probably don't know is that I critiqued Jimbo's bass line on "Love Justifies the Fall" before I made the complete connection to who he is and was. The fact that he went with me and my blabber shows what an incredible and selfless guy and musician he is.
Jimbo is the glue that keeps the songs together on the record and if you are a fan of music and bass, then turn up the bass on your stereo and marvel at his magic! He's so damn good and has the pro's flare of being elaborate whenever he can while keeping the simple foundation of the song whenever he needed to do just that.  And the Intro to "Love Justifies the Fall"? Well, he suggested that arrangement after listening to my ramble about some last minute changes I made to the song two days before the recording.  He is absolutely amazing--and like the others, he's as good of a man as he is a player. And that says something about him as a person. What a gift!
Justin Holder--Drums
Justin Holder is one of those dudes that you might want to hate if you're not a very good musician because the dude can play EVERYTHING. He's an incredible session drummer but he also fronts an A-list cover band "Drumb and Drummer" where he sings lead and plays guitar. The thing to keep in mind while you listen to the tracks is that the entire band tracked ALL of these songs in five takes or less. That is a part of the Muscle Shoals deal, but you can't do that unless the drummer is one bad ass dude. And Justin is that and more.  
There were a couple of times where I had to encourage Justin to go off a bit, but every single feel and approach that you hear on these tunes is based on his impeccable skills, his intuition, and his sheer musicality. I told him early on that a great drummer is always the second songwriter.  Justin played that part to the hilt. And the end of "A Beautiful World?" Well, that was Justin's idea.  
So, when you consider that 2020 saw Justin play with Michael Lawson a few weeks before his Lakers won the World Title, well, he's had a pretty great year.
Brad Kuhn--Keyboards
I gotta tell you, by the time the first session started, I was pretty much a nervous wreck.  I remember running through "Eden" for the first time.  We had the track set at 123 BPM and after a quick debrief, Justin thought the track should be played slower.  HIs response to that--"Well, I think we should try to play it slower at 122, but 'the artist' sure seems like he wants to play it at about 128...."
So, I guess I was rushing just a tad bit?????
But after we went through the first listen, the keyboard player, Brad came up to me and said the following words. "Dude, this song is really good. This is going to be a great session." And from there, I almost relaxed. Brad Kuhn is MY BOY.
You will notice Brad's handiwork throughout the record. His piano lines on Eden, Betting on You, and LIfe Goes On are as good as you will find anywhere. And I challenge you to find lines ANYWHERE that beat his.  And like everyone else, he did it all on the fly. He worked REALLY hard to get the Life Goes On line where it needed to be. But the rest is just his raw, amazing talent and melodic feel.
I told Spencer throughout the mixing process that we needed to make sure that we could hear Brad. I kid you not, there is a part of me that feels like the songs might be better just listening to them as instrumentals. And they'd stand alone as instrumentals because of Brad.  I can't wait to play with this man again. As Spencer said, "He's a MONSTER!"
Marie Lewee and Cindy Walker--Backing Vox
Marie and Cindy are known  affectionately as the "Shoal Sisters" because they sing on so many tracks at FAME. And man are they amazing!!!! 
The two of them sang together on Eden, Love Justifies the Fall, and A Beautiful World. Marie flew solo with me on "Life Goes On" because the song didn't feel like it needed Cindy's high soprano. But when you hear the "She's Bound for Eden" high part on the song's third chorus, that's Cindy.
They both are so incredibly talented and nice and its amazing to see how great singers approach their craft in the studio. SHAZAAM!
++++++++
To all of "The Dream Makers", thank you all with all of my heart and soul.  I can't wait to do it again!! But in the meantime, thank you for making Side 2 and my dreams possible!
~M